With the Columbia Series 910 Thermal Break Fixed Lite Aluminum Window, Columbia offers a problem solving versatile picture window that puts economy, quality construction and aesthetic excellence into your building plans or home.
Columbia thermal break primary aluminum windows have versatile design with a large variety of uses, ranging from single dwellings thru multi-family units to institutional and commercial construction. There is no doubt that Columbia has the industry's finest constructed, most attractive and adaptable prime window there is to offer.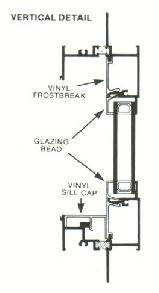 Specifications:
General: All of our Aluminum Thermal Break Series 910 F-R40 Stationary Windows shall comply and bear the Quality Certification label in accordance with the ANSI/AAMA Certification Program 101-93.
Material: Series 910 aluminum windows frames and sash members shall be of 6063-T5 extruded aluminum alloy having a minimum thickness of .062″, the sill to have a minimum thickness of .062″ within commercial tolerances. Integral fins to have suitable break-off and nailing grooves.
Finish: Aluminum windows to be finished in bronze, white or sandstone acrylic electrostastically applied enamel finish.
Construction: All joints of frame and sash members shall be neatly fitted, securely connected and permanently watertight. Frames shall have step point construction for maximum rigidity. Both frames and sash members shall use an extruded screw boss that is an integral part of the extruded section. Mullions to be furnished as required. Fixed sash glazed drop in type.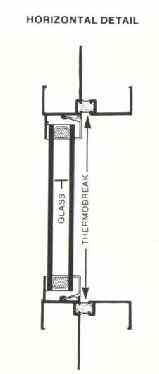 Installation: All aluminum window frames shall be set in accordance with the manufacturer's recommendations without springing, forcing or distorting. Head and sill shall be aligned parallel and square with jambs. A non-hardening sealant compatible with aluminum shall be provided by the window erector, and applied in sufficient quantity to provide a water tight seal between window and surrounding construction. Fiberglass or a like insulation shall be installed around all four sides of product to insure a tight seal. Manufacturer assumes no liability for damage by the trades or final cleaning of aluminum.
Glazing: Clear ½